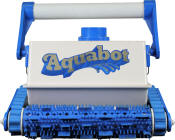 Aquabot Classic w/o Timer
DESCRIPTION
Cable Length 51 Feet
Recommended for an in ground pool up to 25'x40'

AQUABOTS DON'T WASTE TIME "LEARNING YOU POOL!"

Features
Swivel to prevent cord tangling
Cleaning Time of 6 - 7 Hours!
51' Electric Cord
30 Volts
No installation required
Built-in filtration system
Removes algae and bacteria
Cleans any shape, or type of pool
Fully automatic - requires no supervision
Pre-programmed for efficient and thorough cleaning of your pool
Climbs and cleans pool sidewalls
Vacuums up all types of debris
Costs around 10 cents a day to run
Automatic shut-off after 7 hours
Lightweight
Re-usable filter bag
Walks up and scrubs most pool steps and love seats
1 Year warranty

Details
The Aquabot® is the computer controlled, fully automatic swimming pool cleaner which scrubs, vacuums and filters pool bottoms, sidewalls and waterlines. The Aquabot® is equipped with its own transformer, operating on only 30 volts and has a fully independent, on-board filter system. The Aquabot® is completely independent of your main pool filter system, eliminating the need for messy, bulky hoses.
Engineered for reliable worry-free operation, the Aquabot® gathers all leaves, twigs, bacteria and algae in its filter bag before returning crystal clean water back to the pool. Cut your summer pool bills in half the Aquabot® drastically reduces the frequency of wasteful backwashing, saving thousands of gallons of water per year. Reducing your chemical consumption by as much as 30%. With the Aquabot® at work in your pool you can even decrease the running time of you pool's filtration system by as much as 60%!
Technical Specifications
Pool Type: In ground
Quantity of Water Filtered:
4000 Gallons per Hour
Cleaning Coverage: 3500 Sq. Ft / Hr.
Electrical Cord Length: 51 ft.
Unit Weight: 16.9 lbs.
Electrical Plug: US
Filtration - Micron Rating Self Contained - 2 Microns
Shipping Dimensions: 17" x 17" x 18"
Shipping Weight: 34 lbs.
Average Cleaning Cycle: 4 - 5 hrs.
Timer: Internal 7 Hour Shut-off