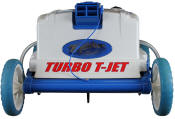 Aquabot Turbo® T-Jet
DESCRIPTION
Cable Length 50 Feet
Recommended for an in ground pool up to 25'x50'

Features
Cleaning Time of 1 Hours!
50' Electric Cord
Power washing jets
No installation required
Built-in filtration system
Removes algae and bacteria
Cleans any size, shape, or type of pool
Fully automatic - requires no supervision
Pre-programmed for efficient and thorough cleaning of your pool
Climbs and cleans pool sidewalls
Vacuums up all types of debris
Automatic shut-off
Lightweight
Re-usable filter bag
Walks up and scrubs most pool steps and love seats
3 Year Pro-Rated Warranty Or 200 Cycles

Details
The Aquabot Turbo® T-Jet incorporates all of the performance features, faster cleaning speeds and a fully automatic operation of the Aquabot® Pool Rover with a faster cleaning time and better warranty. The Aquabot Turbo® T-Jet is equipped with its own transformer, operating on only 24 volts and has a fully independent, on-board filter system. The Aquabot Turbo® T-Jet is completely independent of your main pool filter system, eliminating the need for messy, bulky hoses.
Engineered for reliable worry-free operation, the Aquabot Turbo® T-Jet gathers all leaves, twigs, bacteria and algae in its filter bag before returning crystal clean water back to the pool. Cut your summer pool bills in half the Aquabot Turbo® T-Jet drastically reduces the frequency of wasteful backwashing, saving thousands of gallons of water per year. Reducing your chemical consumption by as much as 30%. With the Aquabot Turbo® T at work in your pool you can even decrease the running time of you pool's filtration system by as much as 60%!
The Aquabot Turbo® T-Jet has only one motor, the pump motor, inside the machine. This will cut down on repairs in the future and still efficiently cleans your pool.

Technical Specifications
Pool Type: In ground
Quantity of Water Filtered:
4800 Gallons per Hour
Cleaning Coverage: 6800 Sq. Ft / Hr.
Electrical Cord Length: 50 ft.
Unit Weight: 10.75 lbs
Wattage: 150 watts
Operating Cost (per cycle): 5 cents
Electrical Plug: US
Filtration - Micron Rating Self Contained - 2 Microns
Power Wash Jets
Shipping Dimensions: 19" x 18" x 17"
Shipping Weight: 35 lbs.
Average Cleaning Cycle: 1 hr.
Timer: 2 Hour Digital