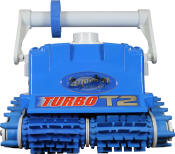 Aquabot Turbo® T2
DESCRIPTION
Cable Length 61 Feet
Recommended for an in ground pool up to 25'x50'

Features
Cleaning Cycle of 1 Hour!
61' Electric Cord
No installation required
Built-in filtration system
Removes algae and bacteria
Cleans any size, shape, or type of pool
Fully automatic - requires no supervision
Pre-programmed for efficient and thorough cleaning of your pool
Climbs and cleans pool sidewalls
Vacuums up all types of debris
Scrubs hard to remove dirt + Power Washing Jets
Automatic shut-off
Lightweight
Re-usable filter bag
Walks up and scrubs most pool steps
4 Year Pro-Rated Warranty Or 300 Cycles

Details
The next generation of Aquabot® is here, and is named the T2. This revolutionary unit is able to clean any pool, regardless of configuration or surface type, including stairs and loveseats, in just 1 HOUR. The T2 achieves this by eliminating the need for movement along the waterline by utilizing more efficient programming, 3 times faster and more powerful motors, assisted by power washing jets and truly systematic cleaning patterns that ensure complete pool cleaning at the touch of a button.

On the Aquabot® T2 the drive motor rotates the scrubbing brushes to break down and loosen debris, while power washing jets lift and remove hard to reach dirt (including sand). It vacuums with tremendous power, and houses leading micro-filtration capability.

The Aquabot® T2 scrubs, filters and vacuums swimming pool bottoms, sides, stairs and waterlines in any type of in ground swimming pool even a fiberglass pool. The Aquabot® T2 dramatically reduces pool maintenance and pool chemical usage costs. The built-in filtration system efficiently removes algae, debris and even bacteria from your pool.

The Aquabot® T2 makes cleaning and vacuuming your pool a snap. All you have to do is plug it in, drop it into your pool, turn it on and it will do the rest. The Aquabot® T2 is self-contained with its own internal pump and filtration system, so you never have to mess with those frustrating vacuum hoses. The Aquabot® T2 is computer controlled and pre-programmed to scrub, vacuum and filter dirt and debris from pool bottoms, walls, waterlines and steps - Automatically!

The lightweight Aquabot® T2 has its own special filtration pump and filter bag located inside its body and operates completely independent of your pool filter, eliminating the need for messy, bulky hoses.

Engineered for reliable, worry free operation, the Aquabot® T2 cannot become stuck on stairs or ladders or become tangled in hoses as with other pool cleaners. Just take the Aquabot® T2 out of the box and put it into your pool - No Installation Is Required.

The Patented T2 Systematic Cleaning Pattern
The T2 is equipped with 2 brushes on each end instead of one like the T4. Where the T4 uses its 2 pistons to control turning both in automatic and remote control mode, the T2 employs a combination of a timing and clutch system to change direction. By stopping the brushes and one side momentarily as the other side continues to turn the T2 takes off on a different angle. This automatic turning ensures systematic coverage of any pool configuration.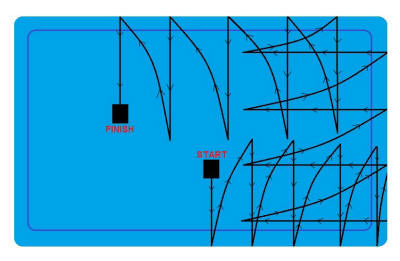 Technical Specifications
Pool Type: In ground
Quantity of Water Filtered:
5000 Gallons per Hour
Cleaning Coverage: 6800 Sq. Ft / Hr.
Electrical Cord Length: 61 ft.
Unit Weight: 16.75 lbs
Wattage: 180 watts
Reset Switch: Yes
Operating Cost (per cycle): 5 cents
Electrical Plug: US
Filtration - Micron Rating Self Contained - 2 Microns
Scrubbing Ability Brushes + Power Washing Jets
Shipping Dimensions 17.5" x 17" x 19"
Shipping Weight: 35 lbs.
Average Cleaning Cycle: 1 hr.
Timer: 1-7 hour auto shut off