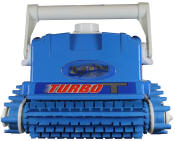 Aquabot Turbo® T
DESCRIPTION
Cable Length 61 Feet
Recommended for an in ground pool up to 25'x50'

Features
Cleaning Time of 2 - 3 Hours!
61' Electric Cord
Power washing jets
No installation required
Built-in filtration system
Removes algae and bacteria
Cleans any size, shape, or type of pool
Fully automatic - requires no supervision
Pre-programmed for efficient and thorough cleaning of your pool
Climbs and cleans pool sidewalls
Vacuums up all types of debris
Scrubs hard to remove dirt
Automatic shut-off
Lightweight
Re-usable filter bag
Walks up and scrubs most pool steps and love seats
3 Year Pro-Rated Warranty Or 200 Cycles

Details
The Aquabot Turbo® T incorporates all of the performance features, faster cleaning speeds and a fully automatic operation of the Aquabot Turbo® with a faster cleaning time and better warranty. The Aquabot Turbo® T is equipped with its own transformer, operating on only 30 volts and has a fully independent, on-board filter system. The Aquabot Turbo® T is completely independent of your main pool filter system, eliminating the need for messy, bulky hoses.
Engineered for reliable worry-free operation, the Aquabot Turbo® T gathers all leaves, twigs, bacteria and algae in its filter bag before returning crystal clean water back to the pool. Cut your summer pool bills in half the Aquabot Turbo® T drastically reduces the frequency of wasteful backwashing, saving thousands of gallons of water per year. Reducing your chemical consumption by as much as 30%. With the Aquabot Turbo® T at work in your pool you can even decrease the running time of you pool's filtration system by as much as 60%!

Technical Specifications
Pool Type: In ground
Quantity of Water Filtered:
5000 Gallons per Hour
Cleaning Coverage: 6800 Sq. Ft / Hr.
Electrical Cord Length: 61 ft.
Unit Weight: 16.75 lbs
Wattage: 180 watts
Reset Switch: Yes
Operating Cost (per cycle): 5 cents
Electrical Plug: US
Filtration - Micron Rating Self Contained - 2 Microns
Scrubbing Ability Brushes + Power Wash Jets
Shipping Dimensions: 17.5" x 17" x 19"
Shipping Weight: 35 lbs.
Average Cleaning Cycle: 2 - 3 hr.
Timer: Customizable Digital 1 - 7 Hours