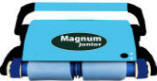 Aquamax® Magnum
Junior
DESCRIPTION
Cable Length 100 Feet
Recommended for a commercial pool that is up to 60'
For use on pools up to 185,000 Gallons

Features
Cleans 1.25 feet per second
Filters 72 Gallons per Minute
100' Electric Cord
Cleaning cycle of 1-7 hours
No installation required
Built-in filtration system
Beach Boy Air Sensor - Included
Infrared Obstacle Avoidance - Included
Removes algae and bacteria
Cleans most commercial pools
Fully automatic - requires no supervision
Pre-programmed for efficient and thorough cleaning of your pool's floor only
Vacuums up all types of debris
Scrubs Surfaces
Re-usable filter bag
2 Year warranty

Details
This automatic robotic commercial pool cleaner is a fast and reliable machine. The Aquamax® Magnum Junior can outperform many other robotic pool cleaners of the same class. Customizable features make this cleaner a wise choice. You can adjust the debris ports allowing to gain suction lower against the pools floor and walls thus vacuuming finer debris such as pollen and algae.

This cleaner filters 72 gallons of your pool water per minute. The Aquamax® Magnum Junior is designed specifically for large pools just like the ones in motels, hotels, and public swimming facilities. The Remote Control that this unit comes with allows the owner to direct the machine, briefly interrupting the auto clean, to anywhere they might want the cleaner to be in the pool. Once you stop using the Remote Control function, the cleaner continues on with it's automatic cleaning routine. This unit's drive motor utilizes Beach Boy Air Sensor technology which detects if the cleaner has exited the pool, or gone up a beach entryway to the pool, saving it from unneeded wear and tare. Also standard on this unit is an Infrared Obstacle Avoidance unit, this causes the pool cleaner to steer away from obstacles such as toys and chairs.

There is no installation required. All you do is plug the Aquamax® Magnum Junior into the power supply (which comes with the machine), then plug the power supply into the wall. Drop the cleaner into the pool and turn the power on. That's it, the cleaner will now accurately and efficiently clean your pool.
Technical Specifications
Pool Type: In ground / Commercial
Quantity of Water Filtered:
72 Gallons per Minute
Cleaner Weight: 47 lbs.
Electrical Cord Length: 100 ft.
Voltage: 115
Electrical Plug: US
Filtration - Micron Rating Self Contained - 2 Microns
Shipping Dimensions 35" x 21" x 20"
Shipping Weight: 75 lbs.
Average Cleaning Cycle: 4 hrs.
Timer: 1-7 hour
Warranty: 2 year