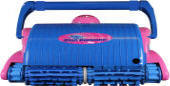 Water Tech® Blue Diamond Pro Remote Control
DESCRIPTION
Cable Length 100 Feet
Recommended for an in-ground pool up to 80'

Features
Average cleaning time of 1 - 1.5 Hours
100' electric cord
No installation required
Built-in filtration system
Removes algae and bacteria
Cleans any size, shape, or type of pool
Fully automatic - requires no supervision
Pre-programmed for efficient and thorough cleaning of your pool
Climbs and cleans pool sidewalls
Air sensor included
Vacuums up all types of debris
Scrubs hard to remove dirt
Re-usable filter bag
Walks up and scrubs most pool steps
2 year warranty OR 1500 cycles

Details
The only robotic pool cleaner designed to clean any pool from Olympic size to small pools. Other robotic cleaner manufacturers offer up to 7 different commercial cleaners, each with different accessories and add-ons. This makes choosing the perfect cleaner very difficult, and expensive risk to take by making the wrong choice. Water Tech Corp knows cleaning a commercial pool poses a technical challenge, and is the only manufacturer to incorporate 21st century technological advances into a single universal commercial pool cleaner. This cleaners strong durable PVA brushes were originally designed to climb slick tiles on the pools walls, therefore this cleaner will climb any surface it comes into contact with. An Air Sensor comes standard on this unit, which will shut the machine off when it is not submerged in water. The power supply lets you program whether you would like the cleaner to clean only the floor, only the walls or both. This remote control that comes with this unit allows you to interrupt the cleaning cycle and move it to wherever you need it to be, it will then go back into it's automatic cleaning mode.
The Blue Diamond® Pro incorporates EVERY feature and option offered by other companies, along with an array of exclusive ones not available elsewhere, such as its Time Delay System that automatically commences cleaning several hours after a pool has been closed, only after dirt and debris have settled on the floor and walls.
Technical Specifications
Pool Type: In ground
Cleaning Coverage: 7000 Sq. Ft. / Hr.
Filters Water: 5019 Gal. / Hr.
Electrical Cord Length: 100 ft.
Unit Weight: 25 Lb. w/o Cord
Voltage: 115
Electrical Plug: US
Filtration - Micron Rating Self Contained - 2 Microns
Scrubbing Ability Brushes
Shipping Dimensions 35" x 21" x 22"
Shipping Weight: 86 lbs.
Average Cleaning Cycle: 1 - 1.5 hrs.
Timer: 3hr. Auto Shut-off
Warranty: 2 Years OR 1500 cycles