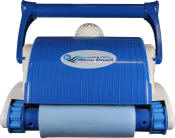 Water Tech® Blue Pearl
DESCRIPTION
Cable Length 60 Feet
Recommended for an in ground pool up to 25'x50'
THE SECRET IS IN THE BRUSHES & CLEANING PATTERN

Features
Swivel to prevent cord tangling
Cleaning Time of 2 Hours!
60' Electric Cord
115 Volts
No installation required
Built-in filtration system
Removes algae and bacteria
Cleans any size, shape, or type of pool
Fully automatic - requires no supervision
Pre-programmed for efficient and thorough cleaning of your pool
Climbs and cleans pool sidewalls
Vacuums up all types of debris
Automatic shut-off
Lightweight
Re-usable filter bag
Walks up and scrubs most pool steps and love seats
1 Year warranty

Details
The world's most affordable super high performance robotic pool cleaner. The Blue Pearl is a very safe robotic pool cleaner, operating on only 24 volts. The Blue Pearl is one of the best climbing, cleaning and brushing robotic pool cleaners ever made. Water Tech installs the patented PVA brushes on every machine. Originally designed to climb slick tile walls of European pools, PVA brushes offer up 100% greater traction, virtually clinging to the walls providing unequaled gripping ability. This cleaners beach entry detector ensures that it will not leave the pool. It's almost like having a scrubbing sponge for the pool.
This special material lasts twice as long as conventional faux bristle rubber brushes found on all the other brands, and resists oil, bacteria, algae and other contaminants. Water Tech Corp's Ultimate Robotics save time and wear and tear on both the pool and machines themselves. Their Super-Smart cleaning pattern, which have made obsolete the archaic, ineffective zigzag and grid cleaning patterns other robotic cleaners still follow, as they feature a one and done, almost surgically precise cleaning swath.
Technical Specifications
Pool Type: In ground
Quantity of Water Filtered:
4200 Gallons per Hour
Cleaning Coverage: 3500 Sq. Ft / Hr.
Electrical Cord Length: 60 ft.
Unit Weight: 16.5 lb w/o Cord
Electrical Plug: US
Filtration - Micron Rating Self Contained - 2 Microns
Shipping Dimensions: 20" x 20" x 20"
Shipping Weight: 36 lbs.
Average Cleaning Cycle: 2 hrs.
Timer: 3 Hour Digital