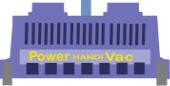 Power Handi Vac
200
DESCRIPTION
Cable Length 100 Feet
Recommended for any sized commercial pool

Features
Manual push cleaner
Filters 150 Gallons per Minute
100' Electric Cord
No installation required
Built-in filtration system
Removes algae and bacteria
Cleans most commercial pools
efficient and thorough cleaning of your pool
High power washing jets that loosen dirt
Vacuums up all types of debris
Scrubs Surfaces
Re-usable filter bag
1 Year warranty

Details
This manual commercial pool cleaner simply attaches to an extension pole, to be pushed around the pool, vacuuming up debris similar to that of vacuuming a carpet. The Power Handi Vac 200 contains no drive motor, so repairs will be cheaper. This unit contains two powerful pump motors, causing an intense vacuuming, picking up twice the amount of debris than that of smaller cleaners of the same type.

This cleaner filters a whopping 150 gallons of your pool water per minute. The Power Handi Vac 200 is designed specifically for large pools just like the ones in motels, hotels, and public swimming facilities. Hydro scrubbing jets come standard on this unit to help loosen caked on debris that builds up on your pools surfaces.

There is no installation required. All you do is plug the Power Handi Vac 200 into the power supply (which comes with the machine), then plug the power supply into the wall.
Technical Specifications
Pool Type: In ground / Commercial
Quantity of Water Filtered:
150 Gallons per Minute
Cleaner Weight: 21 lbs.
Electrical Cord Length: 100 ft.
Voltage: 115
Electrical Plug: US
Filtration - Micron Rating Self Contained - 2 Microns
Shipping Dimensions 28" x 19" x 15"
Shipping Weight: 56 lbs.
Average Cleaning Cycle: Variable.
Timer: None
Warranty: 1 year