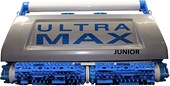 Ultramax Junior
DESCRIPTION
Cable Length 120 Feet
Recommended for a commercial pool that is larger than or equal to 80'
Maximum pool size in gallons that this cleaner is designed for is 725,000

Features
Cleaning Cycle of 6 Hours
120' Electric Cord
No installation required
Built-in filtration system
Removes algae and bacteria
Cleans any large commercial pool
Fully automatic - requires no supervision
Pre-programmed for efficient and thorough cleaning of your pool
Costs 2 cents per hour to operate
Vacuums up all types of debris
Scrubs hard to remove dirt
Re-usable filter bag
Walks up and scrubs most pool steps
1 Year warranty

Details
One of the strongest Commercial Pool cleaners on the market. The Ultramax Junior by Aqua Products inc. has twice the filtering power of all residential robotic pool cleaners. This machine also has a wireless remote control to manual guide the cleaner to specific areas around your pool. An optional "air sensor" (which shuts the machine off once it leaves water) and an "infrared attachment" (obstacle evasion) are both available for this and all other commercial pool cleaners made by Aqua Products inc.

This cleaner filters 10,000 gallons of your pool water and cleans 12,500 feet of surface area in your pool per hour. The Ultramax Junior is designed specifically for large pools just like the ones in motels, hotels, and public swimming facilities.

There is no installation required. All you do is plug the Ultramax Junior into the power supply (which comes with the machine), then plug the power supply into the wall. Drop the cleaner into the pool and turn the power on. That's it, the cleaner will now accurately and sufficiently clean your pool.
Technical Specifications
Pool Type: In ground / Commercial
Quantity of Water Filtered:
10,000 Gallons per Hour
Cleaning Coverage: 12,500 Sq. Ft / Hr.
Electrical Cord Length: 120 ft. (150 ft. optional)
Unit Weight: 42 lbs
Voltage: 115
Energy Consumption: .36KW
Electrical Plug: US
Filtration - Micron Rating Self Contained - 2 Microns
Scrubbing Ability Brushes
Shipping Dimensions 35" x 21" x 20"
Shipping Weight: 81 lbs.
Average Cleaning Cycle: 6 hr.
Timer: 1 - 9 Hour
Warranty: 1 year